King Room – Johann
Double Storey Apartment with TOP furnishings
A generous Apartment with Pantry Kitchen
The King Room Johann is one of the three apartments of Schloss Wissen which offer guests particularly generous spatial conditions. It extends over two floors (ground floor and first floor) of the former Miller's House. Apart from a separate bed- and living room on the first floor, it disposes of a pantry kitchen with sitting area on the ground floor. Furthermore, the King Room Johann features a private terrace with lawn area.
The furnishings of the King Room Johann are – just as the spatial conditions – extremely generous. A comfortable seating group invites you to relax in the living room. The seating group features a high quality sofa bed for two persons. Best entertainment is provided by the special reflex mirror TV.
The fully equipped pantry kitchen allows you to prepare more than just a snack. Access to the terrace with garden furniture is provided via the kitchen with its floor to ceiling windows. The bathroom features a large semicircular bath and a walk-in shower.
King Room Johann at a glance
Location: Former Miller's House
Maximum occupancy:
4 Adults
Bath, Shower, Toilet, Hairdryer
The room is not accessible for users of Wheelchairs
free WLAN
for hotel guests
Telephone on request at a fee
Accommodation for children under 12 years for free
Free parking for cars and buses
Dogs are not allowed in this room
Free stamped postcards at reception
Laundry service, ironing service
Kurzüberblick Königszimmer Johann
Haus
Müllerhaus
max Belegung
4 Erwachsene
Ausstattung
Appartement mit einem Schlafzimmer, sep. Wohnraum u. Pantryküche, Sitzgruppe, Telefon, TV, Bad mit Badewanne, Dusche, WC und Fön, eigene Terrasse mit Rasenfläche, Senseo-Kaffeemaschine, Mineralwasser und Schloss Wissener Apfelsaft
Küchenausstattung
4 kleine Teller, 4 große Teller, 4 Suppentassen, 4 Messer/Gabel/Löffel/Gläser, scharfe Messer, 1 Topf, 1 Pfanne, mehr auf Anfrage möglich
Aufbettung
Kinder ab 12 Jahre 30,00 € p. P./Tag,
kostenfreies Babybett auf Anfrage
EZ Preis
ab 149,00 €
DZ Preis
ab 159,00 €
Preisinformation
Alle Preise verstehen sich pro Zimmer/Nacht. Preise inkl. der gesetzlichen Mehrwertsteuer, auf Anfrage und nach Verfügbarkeit. Frühstück auf Wunsch zubuchbar.
Die Gästehäuser von Schloss Wissen
2
Schreinerhaus
Hier befindet sich das Büro der Hotellerie und das Fürstenzimmer Wessel.
4
Müllerhaus
Hier befinden sich:
Zimmer
Clemens
Therese
Maria
Fritz
Johann
5
Schmiedehaus
Hier befinden sich:
Zimmer
Bruen
Lisbeth
Tante Wirtz
7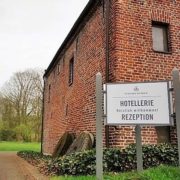 Historische Wassermühle
Rezeption  und Frühstücksraum der Hotellerie
Öffnungszeiten Rezeption:
Montag – Sonntag: 8:00 – 21:00 Uhr
Tel. 02837 / 53796951
Location King Room Johann
The King Room Johann is located in the former Miller's House (4) of Schloss Wiussen, in the direct vicinity of the old Blacksmith's House (5) and the Princess Tower (6). The rooms of the King Room Johann extend over the ground floor and first floor of the elaborately restored building. SCHLOSS WISSEN
Schlossallee 21 | 47652 Weeze
Contact Details
Schloss Wissen Hotellerie
08:00 - 11:00 and 15:00 - 21:00
phone: +49 (0)2837 9619-0
fax: +49 (0)2837 9619-11
email: hotel@schloss-wissen.de