Dear guests of Schloss Wissen,
We welcome you – in compliance with the current CORONA guidelines.
You can ask us how they will be at the time of your request. We will be happy to be at your assistance  for the planning
Your team of Schloss Wissen
HIRING CONFERENCE ROOMS AT SCHLOSS WISSEN
Modernity surrounded by timeless walls
At Schloss Wissen, a variety of conference rooms are at your disposal, making your conference a very unique experience. Far away from the hustle and bustle of the city and the sterile ambience of conventional meeting- and seminar rooms the impressive backdrop of the historic moated castle provides an ideal space for meetings, seminars, conferences or workshops for up to 50 persons.
In our four state-of-the-art conference rooms – varying in size from 42 m² to 94 m² – your conference guests can concentrate on the conference content in peace – while incidentally enjoying the historic walls with their stylish interiors and the magnificent landscape around the castle.
Large Dining Room
Recommendation: 30 – 50 persons
Even today, the Large Dining Room radiates the elegance and charm of a bygone era. The high ceiling, light-flooded room features parquet flooring and the seating can be arranged according to your requirements. Our powerful Wi-Fi ensures a stable internet connection and is available free of charge to all participants. Coffee and tea are served in the entrance hall, the historic Billiard Room. You are welcome to grab a cue and challenge your colleagues to a game. In the evening you can relax in the warmth provided by the open fireplace and enjoy a good wine served by our team.
White Salon
Recommendation: 5 – 20 persons
The White Salon, lavishly decorated with stucco work, is flooded with natural light and features parquet flooring. It is ideally suited for seminars and intensive conferences not exceeding 18 persons. In row seating, the White Salon, which owes its name to its wonderfully light interior, accommodates a maximum of 40 guests. The historic Billiard Room serves as foyer for coffee- and tea breaks. During the breaks or in the evenings, the billiard table invites you to relax with a game of billiard – at Schloss Wissen, time is relative.
Historic Watermill
Recommendation: 5 – 30 persons
The rustic conference room on the first floor of the Historic Watermill is supported by century-old beams and exudes a sense of timelessness. A connected modern glass building ensures views of inimitable landscapes. From here, you are in a position to enjoy panoramic views of the surrounding landscape and of the outer bailey. On request, the Mill Room and the "Nierskabinett" can be separated by a partition wall in order to make space for smaller groups. After an intensive conference our lounge, with selected wines and exclusive Schloss Wissen beers, awaits you on the ground floor of the Historic Watermill.
Outer Bailey
Recommendation: 5 – 150 persons
The former cider factory as well as the new rooms of the academy created in 2020 offer the ideal ambience for a special conference with up to 150 persons.
Over the former cider factory on the first floor with direct access you'll find the conference rooms Turmzimmer (34 m²), Heidefeld (39 m²) and Bellevue (41 m²) which are perfect additions for breakout sessions or individual workshops. Every room can be booked separately and offers for groups up to 15 persons a wonderful castle flair.
Various options are at your disposal should you wish to hire a conference room at Schloss Wissen: Book half a day, a day event or several days including accommodation in one of our guestrooms.
Further details regarding our current conference packages are listed below. We are happy to compile an individual quote for you.
Conference Prices at Schloss Wissen:
Up to 4 hours
Conference package "Half-Day" (max. 4 hours) use of the conference room for a maximum of 4 hours
conference equipment (projector, screen, flipchart)
writing blocks and pens for the participants
3 soft drinks (0,2l) per person in the conference room
coffee and tea break (in the morning or in the afternoon): "sweet and fruity" or "spicy and savoury"
free WLAN access and parking
From 79,00 € per person

All-Day incl. Accommodation
At Schloss Wissen, you can hire four different conference rooms, all featuring a distinctive flair and each one providing a unique setting for your conference. You determine the style of your conference: Select the marvellous halls in the castle or the rustic rooms in the Historic Watermill. Enjoy the impressive atmosphere of the Large Dining Room and the White Salon or allow yourself to be inspired by the view of the vast landscape from the "Nierskabinett" in the lovingly restored Mill.
We are happy to organise the supporting programme for your conference – be it a tour of the castle by a member of the family, an outdoor event such as  paddling on the Niers or a tablet tour in the vicinity of the castle.
Furthermore, our conference hotel offers your guests the possibility of enjoying comfortable accommodation at Schloss Wissen. For this purpose, a total of 21 personalised rooms in one of our elaborately restored guesthouses are at your disposal.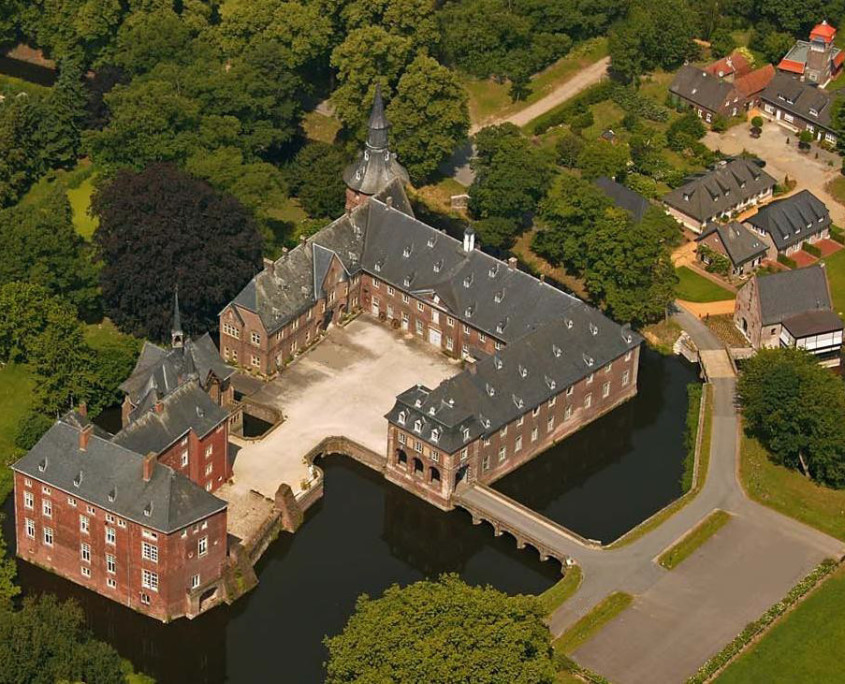 Location of the Conference Rooms
At Schloss Wissen you can hire four different conference rooms. The Large Dining Room (1) and the White Salon (2) are located in the main building of the castle. The Mill Room and the "Nierskabinett", which can be used separately or jointly, are situated in the Historic Watermill (3).
High-Quality Equipment for Conference Rooms
If you hire one of our conference rooms, the room will be equipped according to your requirements and we will make certain that all technical equipment runs smoothly. In order to ensure that your conference is a success, various aides are at your disposal. These can be booked additionally as required (see below).
| Präsentation technology | Moderator technology | Microphone system |
| --- | --- | --- |
| Beamer from 95,00 € / day | Pinboard from 15,00 € / day | Microphone System (Hand-, Clip-On-Microphone) and Headset – on request – |
| Screen from 75,00 € / day | Flipchart incl. paper and pens from 12,50 € / day | |
| Lectern from 50,00 € / day | Moderator Case from 25,00 € / day | |
Should you have any questions regarding your conference at Schloss Wissen, please do not hesitate to contact us under +49 (0) 2837 96 19 -0; alternatively, start a non-binding conference enquiry directly.