The Guesthouses of Schloss Wissen
Individual Double Rooms, Suites and Apartments
The rooms of the Schloss Wissen Hotel are spread over six different guest houses in close proximity to the castle. From here you can undertake beautiful walks, cycle tours or excursions into the surrounds of the castle. The names of the individual guest houses are derived from the former purpose of use of the building. They were lovingly restored as per the old plans of the castle.
Today, the guesthouses accommodate 21 individual double rooms, suites and apartments. By clicking on the site plan, you can choose the desired guesthouse and have the respective rooms displayed.
 Reservation & booking: +49 (0)2837 9619-0
2
Carpenter's House
Here is the office of the hotel and the Prince Room Wessel.
4
Miller's House
Here you find:
Rooms
Clemens
Therese
Maria
Fritz
Johann
5
Blacksmith's House
Here you find:
Rooms
Bruen
Lisbeth
Tante Wirtz
7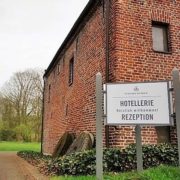 Historic Watermill
Reception and breakfast room of the hotel
Opening hours reception::
All day: 08:00 – 11:00 and 15:00 – 21:00
Tel. +49 (0)2837 9619-0 SCHLOSS WISSEN
Schlossallee 21 | 47652 Weeze
Contact Details
Schloss Wissen Hotellerie
08:00 - 11:00 and 15:00 - 21:00
phone: +49 (0)2837 9619-0
fax: +49 (0)2837 9619-11
email: hotel@schloss-wissen.de