Schloss Wissen – a location for your event
We have a lot of space on offer for special occasions
Are you looking for a suitable place for a company function, a team event, a Christmas party or a wedding? Then you are certainly at the right address!
With its splendid backdrop, Schlos s Wissen is the ideal event location. Within the confines of our moated castle's walls, seeped in history, we offer you the appropriate frame for special occasions. Whether it is a close-knit family get-together or a large company event – the historic rooms of Schloss Wissen will be lit up in splendor to give you and your guests a royal welcome.
Hire an event location for …
Corporate Events
&

Incentives
At Schloss Wissen you celebrate with employees, business partners and customers in an exclusive and unique event location. We take great pleasure in organising unique corporate events and incentives within the historic castle halls or in the surrounding outdoor grounds. These events include summer parties with a barbecue, for example, or a Christmas party (in combination with cutting down your own Christmas tree).
Say "yes" to each other at Schloss Wissen and celebrate an unforgettable wedding with family and friends (max. 80 persons). From the civil wedding ceremony with a champagne reception, a grand wedding banquet in the historic halls to the wedding night in the Princess Tower – all aspects will be taken care of at our event location.
Family events should be celebrated! In the unique event location of Schloss Wissen, you are guaranteed to find the perfect setting for a celebration with immediate family or for a big event with up to 80 relatives, friends and acquaintances. Together, you will experience the unparalleled atmosphere of the castle and the picturesque surrounds and dine royally within the historic halls.
Event Location with Grand Halls and Historic Rooms
Schloss Wissen is filled with possibilities. For a very special celebration, you can select between four different rooms and halls in the castle, as well as in the Historic Watermill. Besides that, the grounds, the picturesque courtyard and extensive castle park offer a lot of space for receptions, exhibitions and presentations outdoors.
Choosing the Perfect Room for each Event
The rooms of our event location offer various seating possibilities. It is, therefore, possible, for you to set up the room for your event according to your ideas.
For civil wedding ceremonies you can select between the "Nierskabinett" (in addition to the Millroom) in the Historic Watermill, as well as the White Salon in the castle. Furthermore, the castle halls (Large Dining Room and White Salon) and the Watermill are at your disposal for festive meals, receptions and evening performances.
| Room | Dinner tabel | round tabels |
| --- | --- | --- |
| Large Dining Room (in the castle) | up to 80 guests | up to 72 guests |
| White Salon (in the castle) | up to 24 guests | up to 36 guests |
| Billiard Room (in the castle) | up to 48 guests | up to 36 guests |
| Nierskabinett (in the Mill) | up to 20 guests | not possible |
| Mill Room (in the Mill) | up to 60 guests | not possible |
For an event in the Historic Watermill, the breakfast area can be rearranged to suit your requirements. On request, 60 additional seats at square dinner tables are available here.
Conferences at Schloss Wissen
Not only are you able to celebrate excellently at this event location; our venues are also perfectly suited for conferences of up to 80 persons. Various packages for Half- and All-Day Conferences, Seminars or Meetings can be chosen from. Our Conference- and  Seminar Rooms are fitted with the standard technology free of charge.

For further information click here: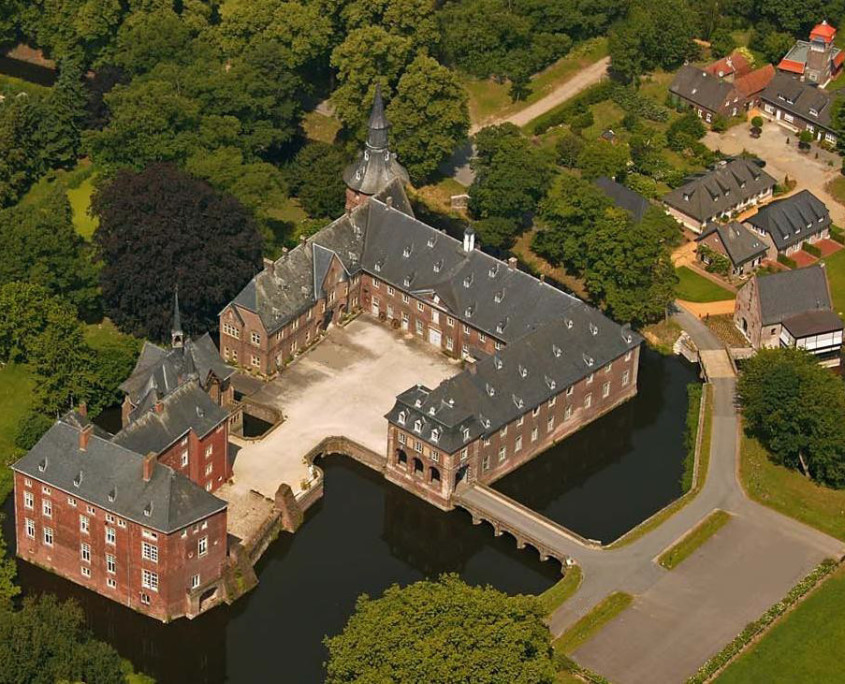 The Large Dining Room (1) and the White Salon (2) are located in the main building of the castle. The Mill Room and the "Nierskabinett", which can be used separately or jointly as event location, are situated in the Historic Watermill (3).